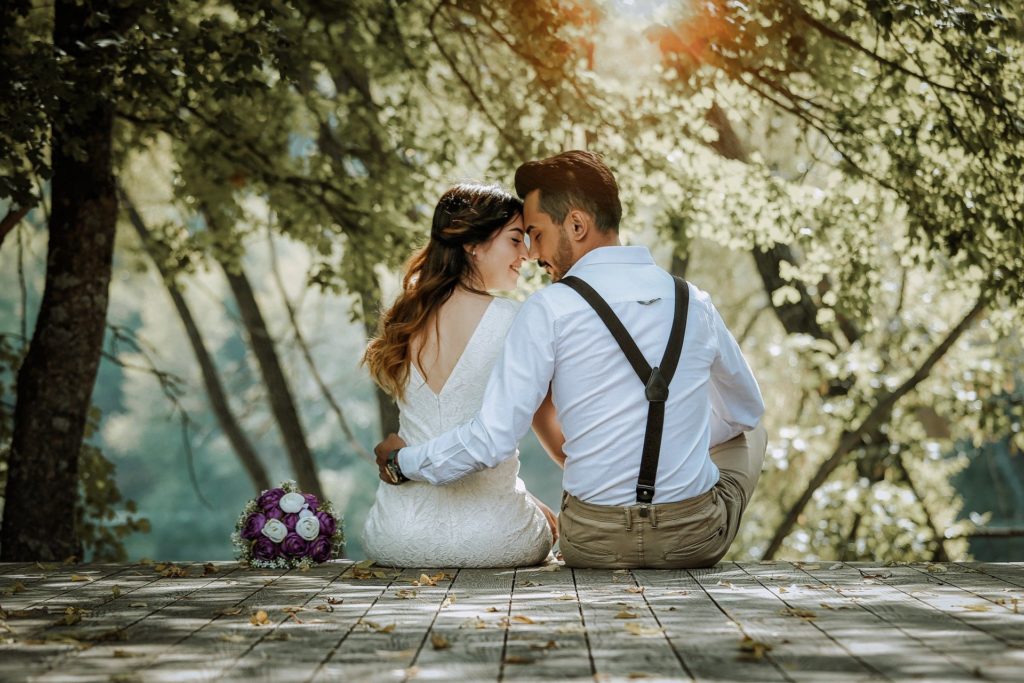 The wedding cost can literally cast a shadow over the engagement bliss. However, it's completely possible to throw a budget-friendly wedding that's beautiful, stylish, memorable and affordable.
1. Cost of a Wedding
The average cost of a wedding is more than a down payment on a great home. From paying for the venue to the cost of make-up and the dress for the bride, the dollars are just flying out of the bank accounts.
There's no shortage of parts to a wedding, and many of them can really pop a dent in the wallet. The Knot has provided some averages back in 2017.
Starting from the highest, the venue's average cost is about $16,000. It is followed by the music band at around $4,000. The florist, the ceremony site, the videographer and the photographer all cost about $2,000 each. The wedding dress costs about $1,500 on average plus at least $200 for hair and makeup whereas the groom's attire costs way less at about $300. You also shouldn't forget about smaller expenses that can easily add up such as the cake that comes at $600, the invitations at $500 on average, favors that add up to almost $300 on average, and of course there are the variable costs whose size depend on the number of your guests and the menu as catering costs an average of $70 per person.
Keep in mind these costs are all related to the wedding day itself, whereas the engagement ring along will increase the budget for about another $6,000. There's also the rehearsal dinner which adds another $1,378 to the equation.
According to The Knot, the average cost of a wedding in the U.S. is $35,329, excluding the honeymoon but you should keep in mind that geography and the season also play a part and cause the prices to vary dramatically.
2.Fabulously Frugal Wedding Planning Tips
Your wedding will be one of the best days of your life so you want to make it count.
Think about the 'feeling'
When you picture your wedding, what do you see and how do you feel? If you need inspiration, just log into Pinterest and let your gut guide you to your dream wedding.
Have the budget talk
As uncomfortable as this budget talk might be, just remember—it's a heck of a lot easier than still paying for your wedding day on your fifth anniversary. It will help you decide what is nonnegotiable.
Do it outside
With so many dreamy and picturesque sceneries, you can cut the venue which eats up the biggest chunk of your budget. Your backdrop can be a garden or even the yard of your parent's home.
Make a skills registry
Instead of getting gifts, use the talents of your guests. Tap into your network. Your friend might also be a photographer or a florist or a restaurant owner.
DIY
You can make your own invitations on canva.com and make your own food by joining forces with your family and friends. You can make a bouquet yourself or at least the centerpieces. Who says a wedding cake needs to be a cake? You can serve cupcakes, after all – this is YOUR party.
3. How To Pay for Your Dream Weddding
Your wedding will still probably be the priciest party you'll ever throw in your life so saving up and cutting back a little will go a long way.
Shop for prices
Shopping and comparing GA natural gas rates will help you find a provider with a cheaper rate that can significantly reduce your monthly utility bill. Do the same for your insurance, internet, etc. Ask for discounts because ometimes, just by asking, you can get a price cut on your bills. No one wants to lose a customer, especially these days.
Cut back where you can
Do you need a takeaway coffee every morning? How about cutting the cord as turning off your cable could save you $100 a month. What about your gym membership? You can pause it for a month and do some free exercises on YouTube or use an app such as the Nike Training Club.
Make a bigger sacrifice
If you didn't already move in together, now is the perfect time so you avoid any unpleasant surprises afterwards and save money. You could also sell a car or some expensive belonging. You could also get a side hustle and sacrifice your free time. When there's a will, there's a way.
Takeaway – The statistics do a great job at bringing us back to earth. But, you can still have beautiful and memorable debt-free wedding. Believe you can do it and you will find a way. Remember: your wedding is about the two of you starting your life together, not about one day. Perhaps this is the biggest problem of today's society: we care more about packaging than the essence of what is inside the package. What better way to begin your life together by building solid grounds and not losing sight of what truly matters.