A continuation of the Babe in the Woods series
Are you a fan of nature, art and self-discovery? In Babe in the Woods: Self Portrait, Yvonne Wakefield tells the story of how and why she lived in a log cabin as a young adult. After the unfortunate death of her parents, Wakefield uses what little money she has left to her name to purchase land and build a log cabin on her own. If you are coming from her first book, Babe in the Woods: Building a Life One Log at a Time, this story will be a satisfying continuation of Wakefield's journey of self-discovery following the log cabin building project.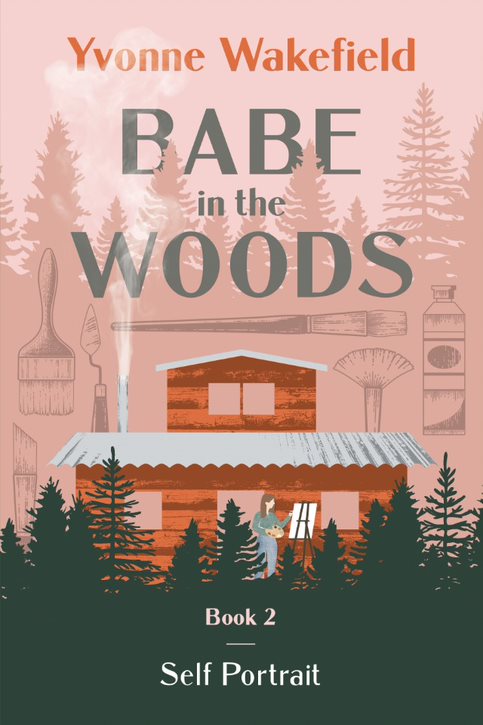 Caught between preparing the essentials of water and heat, and fighting off rogue bears outside her window, Wakefield finds herself completely consumed mentally, physically, and emotionally with surviving in the cabin and learning to navigate in the wild. This turns out to be a blessing in disguise because this left no time to be introspective or to dwell on her misfortunes. Instead, she keeps herself busy and discovers that somehow in the process, she had begun to rebuild her relationship with herself.
Losing her parents at such a critical young age left her in a state that not many of us can relate to. Whenever things started going wrong left and right, she found herself reminiscing on the sanctuary once provided by family. Even after going through the process of actually building the log cabin as described in the first book of this series, she learns and relearns that surviving without parents is an ongoing process.
The differences between being an orphan as a child versus as an adult become clear on Christmas Eve. She remembers how when she was younger, families would invite her into their celebrations out of pity and give her their old dusty white elephant presents. However, at this point in her life, she often found herself shivering outside, looking in on the families laughing and having fun together. I think we have all felt this type of isolation at one time or another. But she wasn't asking for pity from the reader; Wakefield instead thought of people much worse off and decided she must pick herself back up. Briefly spending time with her brother Mark reminds her that while they no longer have parents to guide them, there are still some lingering aftermath of familial values, possessions, and foundation.
Whether you are suffering from the loss of a loved one or feeling like you don't belong, Wakefield's Babe in the Woods: Self Portrait will serve as an inspirational guide to an alternative path. Rather than putting yourself into situations where you might feel trapped in a tradition of not belonging, her story entertains the idea of what happens when you remove yourself altogether and find the environment where you feel most comfortable. Sometimes that means building a log cabin by yourself in the middle of the woods. Order your copy on Amazon now.