Best-selling author and children physiotherapist Lucia Matuonto is back again with another children's book titled Out of the Box: A New World. As a children's physiotherapist, Matuonto is known for creating suitable stories for young readers. Her books incorporate values and concepts younger readers will find helpful and relevant.
Out of the Box: A New World tells the story of a 13-year-old boy named Noah. Noah, along with his parents, sister Mila, and dog Buster, currently resides in a polluted place called Gray Town. After accidentally stumbling upon Green City one day, Noah learns that there's much a better way of living than the one they currently have in Grey Town. Green City is the total opposite of Gray Town and resembles a greener place full of trees and clean air. Thanks to this, Noah and Mila now try to help Grey Town change for the better. Read Out of the Box to know more about Noah and Mila's adventures to a healthier and greener living!
Little steps can make a change.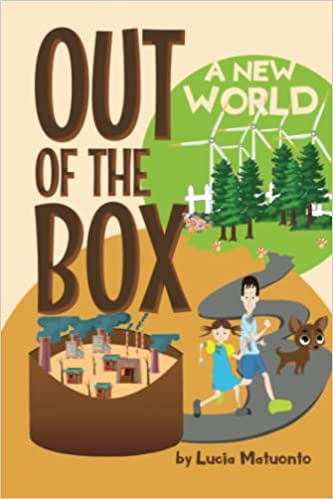 Even though the concept of climate change is heavily taught in schools and at home, it is still a complex topic for young readers out there especially those thinking about a dust extraction system. Lucia Matuonto's great storytelling and artful illustrations by Hani V enable the young readers to absorb the story better. The incorporation of two contrasting worlds, "Gray City and Green Town," is such an intelligent way to introduce children to what the world would be if it were full of pollution, smog, and dirt (Gray Town) or filled with trees and pollution-free (Green City). It is also informative about the harmful effects pollution causes on our bodies.
Out of the Box teaches us that even young people can contribute to making a change in our ecosystem. You can be a hero of your own and take an active role in saving our planet. There are many ways to help preserve our world; think out of the box!
About Lucia Matuonto
Aside from being an author, Lucia Matuonto is also a painter and children's physiotherapist. Matuonto's writing journey began by writing articles for magazines and her blog 20 years ago. Lucia also used to teach and treat children with motor and cognitive disabilities; her love for helping children inspired her to write stories and create an imaginary world full of animals and fantasy. Lucia Matuonto is also the author of the successful three-book series titled Zoe the Crab, which promotes bravery and inclusion.
In Out of the Box, the issue of climate change and living a greener life is significantly emphasized. If you're looking for a thought-provoking, empowering children's book that can serve as an introduction to climate change, then this book is for you!
Out of the Box: A New World is for ages 8 to 11 and is currently available on Amazon. Grab your copy now! You can visit her website to learn more about Lucia Matuonto and her other books!