Joe Turner may eat from paper plates and keep his living room table perpetually messy but in the court room, he always delivers a clean, organized argument. In Good Lookin': a Joe Turner Mystery by T. L. Bequette, Turner represents Darnell Moore who is accused of murdering Cashtown gang member Cleveland Barlow on March 22, 2021. After spotting Moore's car on video at the scene of the crime, the police take him in for questioning. As Turner meets him for the first time and learns of all the mistakes he made, he realizes just how tough this case will be.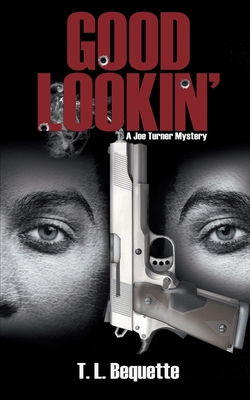 With a growing mountain of evidence against him, it seems as if Moore enters the trial with his fate sealed. Having never lost an innocent client to life in prison, Turner uses this as motivation to seizes every possible opportunity available to prove his client's innocence. Along with the help of an office mate named Andy Kopp and a private eye named Chuck Argenal, Turner searches for the truth that will set his Moore free.
The book simultaneously follows a storyline from the perspective of nine-year-old twins Damon and Jesse. Their connection to Turner's life is unclear until suddenly their paths cross in a significant way that ultimately determines Moore's fate.
In this search for the truth, Turner realizes that he needs to build a better life and stop grabbing beers from the fridge every night. When Andy gives him the phone number of his wife's friend, he musters up the courage to dial. With an interesting name like Edna, or Eddy as he soon learns, he meets her for coffee feeling both nervous and excited. Right off the bat, his expectations are blown out of the water. Turner attempts to flirt in a way that can only be described as hopeless, awkward, and yet charming. Him and Eddy share lots of laughs on their first date, leaving him hopeful for the future. As a bonus, you will want to keep reading to see how Turner transforms into a man that runs and works out daily. He even stops drinking a beer every night which does wonders for his concentration toward the trial.
Not only does Eddy inspire Turner to be a better man, but she also helps him think through the Moore case. When he doubts himself in believing Moore truly is innocent, she always reassures him that he can and should trust his gut judgement. Throughout the book, she becomes an indispensable shoulder to lean on when times are tough and never fails to brighten his day.
While he wrestles with an incompetent judge and an annoying prosecutor, Turner takes you on a journey through the criminal justice system. You will be touched by how Turner finds success in both his work and personal life, especially after spending quality time with Eddy. The combination of suspense and romance in Good Lookin', along with the killer ending, will leave you begging for another Joe Turner mystery.